To summarize how this week has been so far I spent all Sunday and the better part of my lunch break yesterday agonizing over my accounting homework for this week, only to find out (an email to my professor later) that my homework actually isn't due until next week. duh.
On a positive note, the weather here has been just amazing. Although it's still a little cold in the morning I decided to brave the chill and lose the tights. I would have gone completely bare, but Enterprise is still a little weird about that. They officially took pantyhose out of the dress code for girls about a year ago, but I know they secretly want us to wear them. (Silly men).
Anyways, I was hoping to take some of these pictures outside but in true Enterprise fashion the day was so unpredictable I didn't see my desk until I was packing up to leave.
I had to settle for inside pictures. SSBF hates this last picture, but there is something I love about it. I think its just enough off to work. SSBF accidentially left the flash down, that why the color ended up so dark. This outfit, and several variations of it work well for me, at work. It's feminine, yet has enough structure that people take me seriously. Which is more important then you think when you work in a male-dominated field.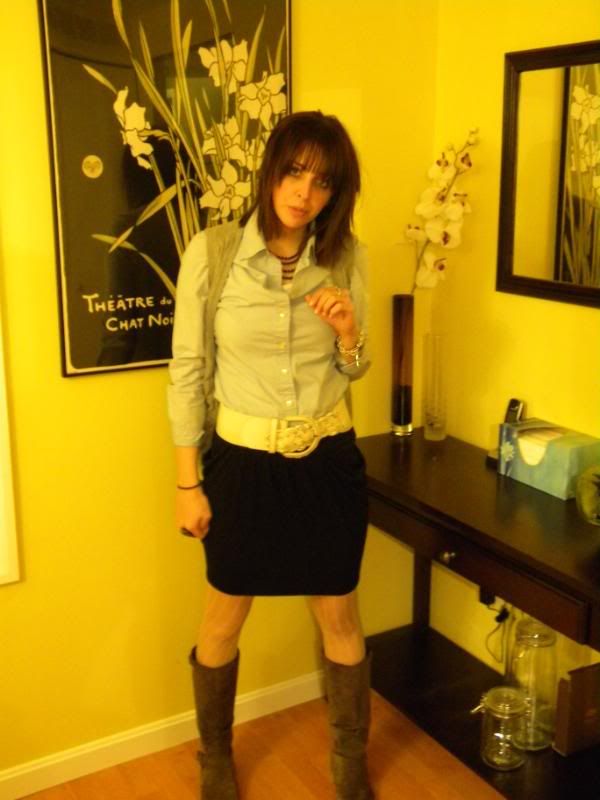 Also, I had been having trouble incorporating fashion and finance into this blog on a weekly basis, but I think I have finally come up with a way to do so. More on that later this week.
Is it Friday yet?

*Shirt, Old Navy
*Vest, Kohls
*Skirt, Target
*Belt, Old Navy
*Boots, Rocket Dog